Chat Now
Laparoscopic Surgeon Mumbai
Laparoscopic Surgeon Mumbai Dr. Shirish Bhagvat has been Practising since 25 years in mumbai.He was trained in Laparoscopic Surgery at University of Melbourne (Australia) in 1992 with Dr. David Fletcher and thereafter Dr. Mohan Chellappa in Singapore in 1992, not long after the inception of WorldWide Laparoscopic Surgery in 1987. He is one of the pioneers in Laparoscopic surgeries in Mumbai since 1992 and is an expert in Gastrointestinal Laparoscopy like Gall Bladders, Hiatus Hernia, Appendix, Spleen, Inguinal Hernia, Laparoscopy for Small & Large Intestine.
He is currently Professor of Surgery & Head Of Surgical Unit at Grant Medical College, J.J. Group Of Hospitals (since August 2002) which is the first and the oldest medical institution in Mumbai.
General and Gastro Instestinal Surgery
Surgery of the digestive system, especially diseases of the abdominal organs. Eg: Stomach (small intestine) /Colon (large end), Gallbladder/Appendix/Spleen.
Surgery for all types of Herniae.
Surgery for Thyroid Disorders.
Laparoscopic Surgery
Also called minimally invasive surgery (MIS) or keyhole surgery, is a modern surgical technique in which operations are performed far from their location through small incisions.
Interesting Cases
Multiple gall stones (800) is rare and this occured mainly due to the unique interaction between the cholesterol and pigment crystals.After 6 weeks the patient (57 year old | Male) was admitted and was taken up for elective cholecystectomy which was done using laprascopy successfully.
Gall Bladder Perforation with Pus formation and spillage of stones in the abdomen and under the skin (Subcutaneous Abscess).
Normally would require a laparotomy (opening of the abdomen) was done successfully laparoscopically.
Most of the complicated Perforated Appendix patients treated Laparoscopically which otherwise would require conventional open surgery.
Complicated Hernias (obstructed and incarcerated hernia) done Laparoscopically which needs special expertise and experience.
Media
Dr. Shirish Bhagvat is a renowned General and Laparoscopic surgeon, specializing in Laparoscopic Gall Bladder, Hernia and other advanced gastro-intestinal surgeries. Affiliation: Jaslok, Bhatia, Saifee, Wockhardt. Visiting: Breach Candy, Cumballa Hill. Trained in Laparoscopic Surgery at University of Melbourne, Australia in 1992. One of the first surgeons to perform minimally invasive (key hole) surgery in India in 1992. Hon. Professor & Head of Surgical Unit, Grant Medical College, J.J. Group of Hospitals. Teaching Undergraduate and Postgraduate Students and Nurses for over 18 years. Appointed 'Examiner in Surgery' by Mumbai University in 1996.
- Published by India Today Magazine.
Panel Consultant at
H.N.Reliance
J.J Hospital
Saifee
Jaslok
Bhatia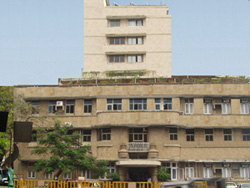 © 2019 Dr. Shirish Bhagvat | Powered by
Acetrot